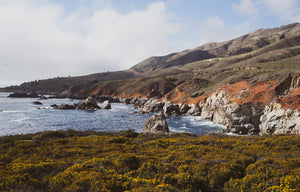 Our Purpose
Live Comfortably Uncharted
Finding your way often comes with obstacles in the middle of your path. In fact, navigating life can often feel a lot like searching through shallow waters on low tide. While searching, you'll discover all the sandbars that arise to either slow you down or show you there's another way. your way. moving forward is the path to freedom & discovering adventures unknown.

it's your freedom to live life your way & captain your own ship in comfort during all seasons. We made the choice to create Low Tide Thread Co. while the currents of life were changing & we went all in on our passion & drive to create top-shelf apparel that's intentionally unique & handcrafted quality.
Small Batch
"Craft Threads"
Much like a master brewer, who takes the time to consider each individual ingredient or blend of hops for a craft beer, we strive to put that same effort into each of our products, which is where we came up with the phrase,
"Craft Threads."
We carefully select or craft each snap, tone, fabric, thread, ink, & design in such a way, that it feels like a finely tuned & refreshing craft beer. We are excited for you to take this journey of creativity with us & experience the "Craft Threads" difference. Cheers!
INspired by the timeless &the wild
Vintage Inspired
low tide thread co. is consistently inspired by earthy tones, colors, & fabrics that look & feel classic yet are constructed to last for decades to comes. Our passion is to create products that will get better with age and continue to be your favorite threads for a lifetime. We want you to feel encouraged, inspired, & emboldened to make new memories & experience what new adventures await while wearing Low Tide Thread Co. We've worked passionately to craft these small batch goods so you can live freely & continue your journey to wherever you find yourself.
The Jellyfish
The jellyfish is a creature that's found all over the world. they are very unique in nature & can be seen in the most shallow rivers to the deepest oceans. There are many mysteries surrounding the jellyfish but they are a symbol of instinct, survival, movement, flow, & resiliency. This symbolism is in alignment with the essence of Low Tide Thread Company. Being able to adapt & thrive comfortably no matter the tide or current is key to unlocking the next chapter & continuing to flow like the jellyfish. Stay wild.
Push Forward & adjust your heading for the unknown